(Crossposted from Violet DeVille)
Have an interest in dipping your toes into some burlesque and live in the northen Puget Sound? I am coming to the Bellingham Sex Positive Center to teach an intro to burlesque workshop for all genders, Burlesque with Miss Violet DeVille at the BSPC on September 21st. This 3 hour workshop begins at 1pm. There are 20 tickets available at $20 from Brown Paper Tickets.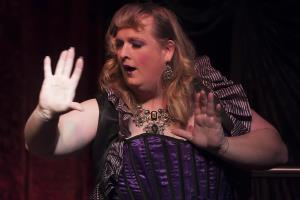 With a rich history dating back to the 1800s, burlesque performers having been entertaining and enticing crowds with bawdy, alluring, and even comedic all while exciting and arousing them through the art of the tease. In this workshop for all bodies and genders we'll explore some of the history of the risque art and some of the forms it's taken over the years and why some reasons people do burlesque. We'll do some tease and movement, we'll examine costuming for deconstruction, using props for reveals, and more. By the end of the 3 hours you will have a basic introduction to burlesque and you'll go home with resources to go further.