(Crossposted from Violet DeVille)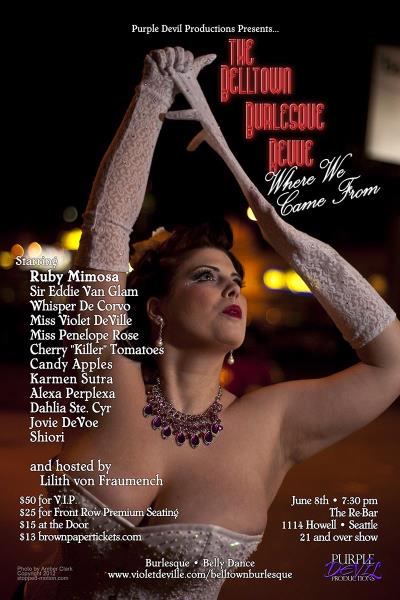 When June comes to call, some people like to look back at the first half of the year and see where they came from as they plot the way forward through the rest of the year. Here at the Belltown Burlesque Revue we not only approve of this approach, we're going to do it one better! We're going to spend an evening looking at the roots of the neo burlesque movement through the lens of classic burlesque! It's an evening of tributes to those who laid the foundation we dance upon and a celebration of the classic bump and grind.
Purple Devil Productions presents
The Belltown Burlesque Revue
Come and see...
Ruby Mimosa
Sir Eddie Van Glam
Whisper De Corvo
Miss Violet DeVille
Miss Penelope Rose
Cherry "Killer" Tomatoes
Candy Apples
Karmen Sutra
Alexa Perplexa
Dahlia Ste. Cyr
Jovie DeVoe
Shiori
The Lilith von Fraumench is your Mistress of Ceremonies through the evening.
The Belltown Burlesque Revue: Where We Came From is June 8th at the Re-Bar located in Seattle's historic Belltown neighborhood.
April 11th at 7:30 pm, doors open at 7:00 pm
The Re-Bar
1114 Howell St
Seattle, WA
You can RSVP for the show and share it with your friends on Facebook!
Tickets are:
$50 for V.I.P. seat in the front row and a good bag to go with it.
$25 for Premium Seating in the front row with a table for your drinks
$15 at the door
$13 online at Brown Paper Tickets
www.violetdeville.com/belltownburlesque