(Crossposted from Violet DeVille)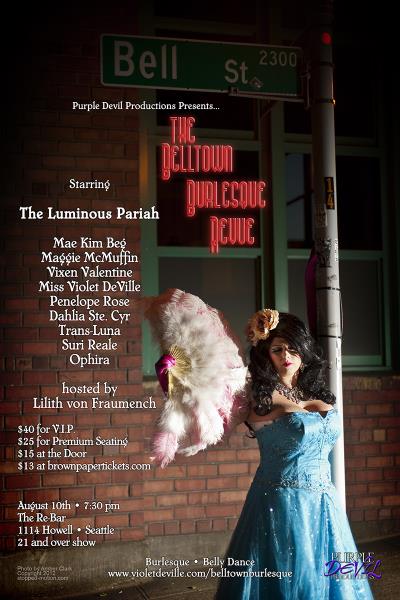 August is the month where summer hits Seattle like a hammer of HOT and there's no rain in sight. Step out of the heat into a cool night of bumps and grinds at the Belltown Burlesque Revue. Broiling hot weather is not fun. Sexy-hot performers are.
Purple Devil Productions presents
The Belltown Burlesque Revue
Starring
The Luminous Pariah
And featuring the talents of…
Mae Kim Beg
Maggie McMuffin
Vixen Valentine
Miss Violet DeVille
Penelope Rose
Dahlia Ste. Cyr
Trans-Luna
Suri Reale
Ophira
The Dyke with the Spikes, Lilith von Fraumench will be your hostess!
The Belltown Burlesque Revue is August 10th at the Re-Bar located in Seattle's historic Belltown neighborhood. Doors open at 7:00 pm, show at 7:30.
The Re-Bar
1114 Howell St
Seattle, WA
RSVP for the show and share it with your friends on Facebook!
Tickets are:
$40 for V.I.P. seat in the front row and a goodie bag of sexy treats.
$25 for Premium Seating in the front row with a table for your drinks
$15 at the door
$13 online at Brown Paper Tickets